Classic Red Wine Gift Basket
---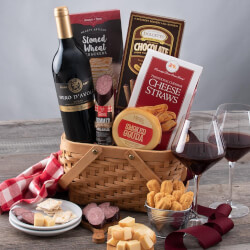 Description:
Perfect for delighting at any occasion, this harmonious arrangement is guaranteed to make a lasting impression! Inside this basket, your recipient will discover a well-balanced Italian red wine blend, which our experts have paired with a classic assortment of tasty gourmet snacks. Complete with a smoky beef summer sausage, ultra sharp cheddar cheese, crisp artisan crackers and more, this elegant gift is one that's impossible to resist!
---
People Who Liked This, Also Liked
---
Oh snap! No Similar Gift Ideas Found.