Coffee Chemistry Mug
---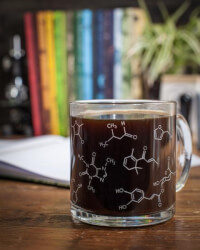 Description:
Fretting over the fact that your buddy is finding breakfast or break time downright formulaic? Help them rediscover their fun side while still honoring their affinity for all things science with this Coffee Chemistry Mug. Finally, there's a cup that's making hot beverages into a form of geek entertainment and nerds everywhere are rejoicing. Rather than yet another cat picture or a mass-produced cup emblazoned with "#1 Teacher", this mug is covered in the chemical formulas for everything from caffeine (of course) to 2-isobutyl-3-methoxypyrazine (say that three times fast!). It's an ode to education and scholarly pursuits of all shapes and sizes and it's bound to put a twinkle in even the pickiest professor's eye. Bored with the contents of your buddy's cupboard? Catching your classmate snoozing in class? Perk things up with a caffeine molecule cup that epitomizes its own visual message. The ink used to etch the glass fires at extraordinarily high temperatures until it actually becomes integrated into the mug. It won't scratch, flake, or peel, meaning that each formula is every bit as permanent as the tenets of chemistry itself. Perhaps best of all, this chemistry coffee mug can be safely put in the microwave for a quick reheat or into the dishwasher for easy cleaning making this gift something even an absent-minded professor can't muss up. This coffee chemistry mug makes a great gift for your girlfriend or boyfriend, the perfect thank you to your science professor for a semester of patience, or a well-suited graduation gift for your nerdy best friend. Specifications: Each caffeine molecule cup contains (well, the formulae, anyway…) - caffeine,neochlorogenic acid, isovalerylaldehyde, furan-2-ylmethanethiol, guaiacol, 2-methoxy-4-vinylphenol, 2-isobutyl-3-methoxypyrazine, 4-caffeoyl-1, 5-quinide, ß-damascenone, furaneol Printed with eco-friendly ceramic ink for a raised rough texture. Because the ink fires on at temperatures of up to 1,200°F and becomes part of the finish, the image doesn't peel, flake, or scratch Individually boxed Dishwasher safe Microwave safe Made in the USA Volume: 13 oz Height: 3.5" Diameter: 3.25"
---
People Who Liked This, Also Liked
---
Oh snap! No Similar Gift Ideas Found.