Zodiac Sign Necklace
---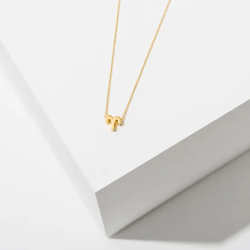 Description:
Aries are known for their audacity and can often be found tackling huge projects without so much as a hint of apprehension. Geminis are multitaskers; they may be represented by starry twins, but this is more of a "wish I could clone myself" situation. As for Cancers, they're intuitive beings that can feel others' emotions, while Virgos are logical and systematic - often to a fault. Astrology isn't exactly a science, but there are those who swear by the zodiac's ability to help us understand ourselves and those around us. Now you can give a true believer this Zodiac Sign Necklace so they can rep their sign - and everything it stands for - 24/7. Nickel-free brass construction means this necklace is naturally hypoallergenic, and the 24k gold plated necklace means you're really good at picking out quality gifts. Sophisticated and striking in their simplicity, each of these shiny zodiac sign pendants is small enough that it can be worn layered with other signature pieces but big enough to hold untold mysteries of the universe. If you're into that sort of thing. It's ready for red-carpet lovin' Leos to toss on with a haute couture dress and still perfect for a serenity-craving Taurus. We give it four stars! (Get it?) PRODUCT INFO: Your choice of 24k gold plated zodiac signs on a delicate matching chain 16 inches plus a three-inch extender chain Come in a gift box PRODUCT CARE: Brass is naturally hypo-allergenic and nickel free! Yay! It also takes on a nice patina over time (which we think is rad and really pretty) but if you like it super shiny, you can polish it with a silver cloth or polishing pad. Don't put any chemicals on it. To keep it from darkening, avoid things like wearing it while skinny dipping in the lake, rubbing it down with lotion or sweating all over it at the gym. In general, don't throw it at the bottom of your purse or drop it on a hard floor. Treat it like it's special and loved, and it will love you back for a long time to come.
---
People Who Liked This, Also Liked
---
Oh snap! No Similar Gift Ideas Found.