Become A Knight Or Dame
---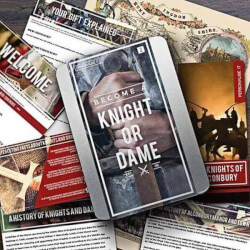 Description:
Do you know someone who believes they're royalty? Maybe they act like the king or queen of your neighborhood or perhaps you think they're so special they should have their very own title. Know you can make it happen thanks to this Become A Knight Or Dame gift pack.Hear ye, hear ye! Now announcing the Lord of Battery Park. Or is it the Lady of Compton? The Knight of No Pants? You'll have to keep the hilarious nicknames to yourself, because when you get someone this customizable kit, you'll transform them into a legitimate Knight of the Manor of Alconbury. Each tin comes packed with goodies such as a welcome letter, the history of Alconbury Manor and the surrounding town, maps, explanatory leaflets, and even a postcard. Once the new Sir or Dame registers, they'll receive a personalized certificate announcing their knighthood. If you thought your BFF or sibling was incorrigible before, wait until they have a title to lord over you (pun totally intended).This is the perfect gift for history buffs, fans of the royal family, or anyone who loves make-believe and the idea of snagging their very own seat at King Arthur's roundtable. You may not be able to transport them back in time, but you can give them a small taste of the regency lifestyle, and that's pretty cool. You will also be presented with a personalized certificate of your knighthood after your registration! WHAT'S INSIDE Your gift explained A6 Postcard History of Alconbury Manor & Town History of Knights and Dames Historical Map of Huntingdonshire Trifold of the Lords of Alconbury Registration sheet AFTER REGISTRATION A personalized supporter certificate will be dispatched to you within 28 days of your registration. DISCLAIMER The title of Sir and Dame can be used by the gift recipient once they have received their certificate of proof of title. Please note that whilst you will be able to use the title of Sir or Dame of Alconbury, this is not the same as a title of nobility for services to the country. This is a novelty gift and should be regarded as such. FAQsHow do I register my gift?You can register your gift online at www.registergiftbox.com and follow the directions given.How long do I have to register my gift?You need to register your gift before the 'register by' date, shown on the back of your tin sleeve. We recommend you register your gift as soon as possible.How long does it take for me to receive my personalized certificate?This will be dispatched within 28 days of receipt of your registration details. Occasionally, factors outside of Gift Republic's control may affect delivery times.Can I use my title on official documents?No, unfortunately the title cannot be used on official documentation like passports or driving licenses.What other titles are available?Gift Republic offers an array of unique and unusual gifts. Other gifts in this range include: Become a Laird or Lady, Name a Star, IQ test and many more.
---
People Who Liked This, Also Liked
---
Oh snap! No Similar Gift Ideas Found.