Rise & Shine® Wake Up and Color Changing Light
---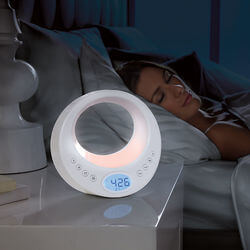 Promotion: Free Shipping On $99+ With Code SHIP99
Description:
Radio, Sound Machine And Lamp In One That Lulls You To Sleep And Will Wake You Gently. Fall Asleep And Wake Gently And Find Serenity Any Time Of Day. Dims/brightens (15 Levels) Use For Sleepinguse For Waking Serenity Light Waves Through 250 Colors Wake Up To Fm Radio Dual Alarm Clock, Wake Up To Beeps Sound Machine Plays Your Choice Of 5 Soundscapespatented Technology Simulates The Rising Sun To Wake You Gently As Nature Intended.sleep Mode Feature Slowly Decreases Lamp's Intensity To Aid In Falling Asleep Peacefully. In The Morning, "sunlight" Gradually Grows Brighter, And Is Accompanied By Your Choice Of Five Nature Sounds Or Fm Radio, To Help You Ease Into Your Morning. Synchronized Sleep And Wake Programs Help The Body With Cues To Fall Asleep, Sleep More Soundly And Wake More Refreshed And Revitalized. You'll Awake Refreshed With Reduced Grogginess. Alarm Clock Option Lets You Wake To Beeps (Complete With Snooze Button!). However You Choose To Wake, The Rise & Shine Light Features Dual-Settings So Two Wake-Up Times Can Be Set. Plus, It Fits Neatly On Any Bedside Table.find Serenity Anytime Of Day.our Rise & Shine Light Is More Than A Fm Radio Alarm Clock Or Wake-Up Light. It'S Also A Color-Changing Serenity Light. The Serenity Light Program Gradually Waves Through 250 Different Colors Of Light Creating A Serene And Peaceful Environment For You To Relax. Combine This With The Soothing Melodies Of The Sound Machine To Complete The Experience. Wake Up With The "Sunrise" And Feel Relaxed Any Time Of Day! Order Your Rise & Shine Wake-Up Clock And Color-Changing Serenity Light From Brookstone® Today.
---
People Who Liked This, Also Liked
---
Oh snap! No Similar Gift Ideas Found.