Star Trek Pin Collection
---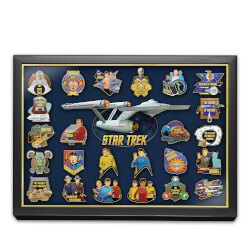 Description:
From the unexpected alien of "The Man-Trap," the first-ever STAR TREK™ episode to hit the airwaves, to the comedy of "The Trouble with Tribbles," to the classic time-travel story of "The City on the Edge of Forever," STAR TREK brought serious science fiction to television. No wonder over 50 years later it remains as timely and powerful as when it first aired in 1966. Now, pay tribute to over 50 years of interstellar adventure with the STAR TREK Pin Collection. Officially licensed and available exclusively from The Bradford Exchange, your collection arrives in sets of two pins each and begins with Issue One, Captain Kirk and The Man Trap. Soon your collection will continue with Issue Two, Mr. Spock and Charlie X. Additional sets of two collectible STAR TREK pins and a Display Case, each a separate issue, will follow. Each issue will arrive separately.‡Perfect for any fan of STAR TREK collectibles, many of the pins in this collection are created to capture the essence of fan-favorite episodes from all three seasons of the original series, and are hand-enameled in colors true to the colorful original. Each 24K gold-plated pin captures iconic elements of the spirit of the episode, from Spock's goatee in "Mirror Mirror" to Sulu's famous fencing scene in "The Naked Time" to the Gorn from "Arena" in all his green glory. Rich 24K-gold plating adds luster while the episode title appears on each pin. Additional pins pay tribute to the crew of the U.S.S. Enterprise™. Plus, each two-pin set arrives with one Captain's Log Collector's Card detailing each episode, complete with Stardate. For the perfect finishing touch, your collection comes with a custom-crafted glass-covered wooden display case finished in sleek black and featuring a sculpted, raised-relief centerpiece of The U.S.S. Enterprise™. A $100 value, it ships as Issue Four in your collection for the same low price as a single set of pins!. But don't wait. The edition is strictly limited to 5,000 complete collections in the universe and strong demand is expected, so order now!
---
People Who Liked This, Also Liked
---
Oh snap! No Similar Gift Ideas Found.