Letters to My Dad
---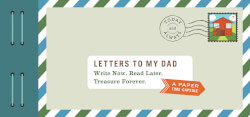 Description:
Finally, a gift for your dad that wasn't made in woodshop or snagged for the tie section of a department store - not that there's anything wrong with that. No, this year, your birthday gifts for dad are going to look a heck of a letter better and last longer too, thanks to this collection of Letters to My Dad. Each Letters to My Dad kit contains twelve letters, each one an opportunity to tell your pops how much he truly means to you. Two letters are blank, so you can let your creativity run rampant, while 10 others contain interesting prompts to help fuel your imagination and draw out some heartfelt, meaningful words. Fill them all out yourself and postdate so your dad can read each missive on a special occasion somewhere down the line, or have each of your siblings write a letter or two as well for a group gift your father will never forget. Once everything has been written down for posterity, seal up the letters using the included stickers and either mail them or wrap them all up in anticipation of the big day. Your dad may not be the crying type, but all bets are off once he finally sees how you feel about the guy whose bad jokes could never overshadow his giant heart. Specifications: By Lea Redmond This book of twelve letters (ten prompted, two blank) makes it easy for children of many ages-from tween to adult-to show Dad how much they care. Once filled out, sealed, and postdated, the letters become handwritten time capsules to give to Dad for Father's Day, holidays, or milestone birthdays. When he breaks open the seals in the future, he will find a priceless keepsake.
---
People Who Liked This, Also Liked
---
Oh snap! No Similar Gift Ideas Found.