Adopt A Panda
---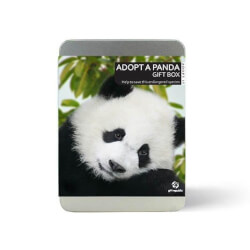 Description:
Animal lovers are sometimes both the easiest and hardest people to shop for. On one hand, anything that honors our furry friends is fair game and you can pick almost anything and be rewarded with a hearty thank you and a chorus of adorable noises. On the other hand, animal lovers are constantly getting gifts like stuffed animals and nature documentaries so deciding on something truly unique can be a difficult task. For once, you've got a chance to master the art of gift-giving and nail the originality factor thanks to this Adopt a Panda bear present. How does it work? It's ingenious, actually. Your gift signifies the recipient's support of a giant panda for a period of 12 months. That's a full year that your pal will be an adoptive panda parent, taking care of their black-and-white buddy through the hard work and continuing efforts of the conservation group Panda International. The eco-friendly offering also comes with a tin full of panda-related information and a full-color poster so the new mama or papa can gaze upon their four-legged offspring whenever the mood strikes. Once the gift has been registered, the recipient will get a personalized supporter certificate, a picture of the perky panda, and regular newsletters so they can stay up-to-date on the not-so-little bear's comings and goings. It's a one-of-a-kind gift that any animal lover will swoon over and you can feel wonderful knowing your purchase is doing some good, too. Specifications: In association with Pandas International, this fantastic gift enables you to adopt a giant panda for 12 months. Your adoption will make a valuable contribution to Panda International's ongoing conservation efforts, which will make a real difference to the lives of the Panda and their habitats. Inside the tin is a host of information, a stunning color poster and easy-to-follow instructions on how to adopt a real panda. Read all about pandas and then register the gift to adopt - online or by post. Once registered, you will also receive a personalized supporter certificate, a panda photograph and newsletters. What's Inside Welcome Letter Your Gift Explained Gift registration form Giant Panda booklet Protecting Pandas leaflet Pandas International leaflet Giant Panda souvenir poster After Registration A personalized supporter certificate and a Giant Panda photograph will be sent to you within 28 days. You will also receive newsletters directly from Pandas International.* *Newsletters are sent at the discretion of Pandas International. FAQs How long do I have to register my gift? You need to register your gift before the 'register by' date on your gift registration booklet. We recommend that you register your gift as soon as possible. How long does my adoption last? Your adoption lasts for 12 months from the date of registration. How long does it take for me to receive my certificate and photograph? These will be dispatched within 28 days receipt of your registration details. Occasionally, factors outside of Gift Republic's control may affect delivery times. Can I visit the pandas? Pandas International works closely with Bifengxia Panda Centre outside Ya'an city in central China. The centre does sometimes accept visitors and volunteers. Charges apply. Check the Pandas International website for further details: www.pandasinternational.org Disclaimer: This gift package is produced in association with Pandas International, a registered 501 (c)3 non profit organization. For every person who registers his/her gift, Gift Republic donates approximately 10% of the RRP directly to Pandas International who reserve the right to allocate the donation wherever they feel the need is greatest. The adoption is valid for 12 months from the date of registration. This is a novelty gift item and must be regarded as such.
---
People Who Liked This, Also Liked
---
Oh snap! No Similar Gift Ideas Found.