Sand Art
---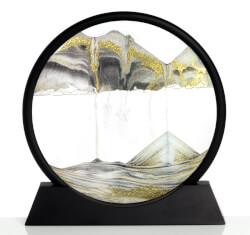 Description:
The Deep Seas Sand Art are 11" x 10" and are perfect for the desk at home or the office. Like sands through the hourglass ... your life may not be quite worthy of a soap opera storyline - and that's a good thing - but chances are you still have plenty of stressors that make you want to put your head through your computer screen. Before you smash, consider combating that workplace anxiety with something a little less painful. This example of Deep Sea Sand Art from Klaus Bosch's KB Collection is a mesmerizing gift that draws you in and threatens to never let go (don't worry, it will). Handcrafted, immensely detailed, and carefully blended for the ultimate in depth and visual interest, these displays can be wall-mounted or sit right on a table or desk for multiple ways to enjoy the multicolored sand dance. For the ultimate in interaction, twist and turn the frame to watch mountains transform into valleys, mimicking the natural erosion that takes place over time all over planet Earth. For anyone who struggles with professional or personal pressure or who just appreciates a soothing way to shake off a long day, this stunning example of sand art blends form and function into one creative masterpiece. Give deep sea sand art as a gift to someone who loves interesting conversation starters, surprise your artsy friend or family member, or snag one as a present for the person who has everything except for a little peace of mind. A sand picture will do several times a day what mother earth takes millions of years to accomplish. Specifications: Klaus Bosch makes the KB Collection sand art in his studio in Lustenau, Austria. Each piece is handcrafted with love and attention to detail. He uses a complex, yet beautiful blend of sand which is carefully selected for each frame color. Turn the Deep Seas 180° to create mountains, valleys and dunes. Or, just rotate the Deep Sea to create cascading sands. Sand pictures are educational for children while soothing and relaxing for adults. The Deep Sea Pacific has a black wood base and a black plastic frame. This has the classic Sandman's sand blend with black, ruby and gold sands.
---
People Who Liked This, Also Liked
---
Oh snap! No Similar Gift Ideas Found.