Personalized Whiskey Making Kit
---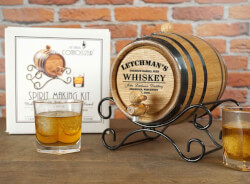 Description:
We all know at least one...the guy (or gal) who takes their whiskey oh so seriously. They might take it neat, with one ice cube, with a splash of water, or in a moscow mule. But, however they choose to enjoy this spirit, one this is the always the same...they appreciate the good stuff. They know what makes the perfect flavor whiskey for their palette and now they can have the chance to put their skills to the test to produce their ultimate flavor profile by aging their own whiskey in this personalized barrel. That's right, your whiskey loving friend or relative will toast you ever time they take a sip from their personal oak barrel cask. They'll explore the world of bourbon while making three types of whiskey; Small Batch, American Rye, and Smoked Whiskey in a real American White Oak barrel handmade in hooch country just outside of Washington D.C. No two barrels are alike. Each oak barrel has its own distinct flavor profile. This is due to slight variations in each oak tree used to make the staves, the individuality of the charring process, weather and climate fluctuations, the size (and therefore surface area) of the barrel, etc. The 3 exquisite flavors of essences included in the kit allow you to sample a broad spectrum of taste and character with your own personal spirit blend. Each future batch will take slightly longer than the previous because flavors soften over time. Personalize their barrel with their name, town, a distillery name, and a year of establishment to create a centerpiece for their home bar, man cave, kitchen countertop of wherever they see fit. This kit includes everything they'll need to make their finest blend, aged to perfection. It is an unforgettable gift for retirement, Father's Day, milestone birthday, and even wedding or anniversary for whiskey loving couple. KIT INCLUDES: 1, 2, 3 or 5 liter American White Oak Barrel Premium Wrought Iron Stand Bung and Spigot 3 styles of essence Paper Funnel Barrel Cleaning Kit Guide to Barrel Aged Spirits Booklet ESSENCES: Smoked Whiskey Small Batch American Rye SIZES: 1 liter barrel dimensions: 6.5" x 4.5" x 4.5" 2 liter barrel dimensions: 7.5" x 5" x 5" 3 liter barrel dimensions: 8.5" x 5.5" x 5.5" 5 liter barrel dimensions: 9.5" x 6.5" x 6.5" HOW IT WORKS GENERAL INSTRUCTIONS Start by curing your barrel (instructions below) Pour most of a 750ml bottle of 40% alc./vol. grain alcohol, neutral vodka or swish alcohol into the barrel Add 1 bottle of your desired Essence per liter of alcohol and fill the barrel with the remaining alcohol SHAKE WELL to mix thoroughly It's best when aged for 2 or more weeks, but if you can't wait... DRINK NOW! Clean barrels with cleaning kit (included) after 2-3 uses CURE YOUR BARREL Tightly insert the spigot using a mallet or place a sloth over the spigot and gently hammer it in Fill with hot water and insert the bung Allow 3 to 5 days for the barrel to completely seal Once cured, fill the barrel with your favorite spirit and place the bung in to remove any air Do not submerge your barrel in water! AGING SPIRITS Due to the higher surface area of the 1 liter barrel, spirits will age 8x to 10x faster than the standard 52 gallon barrel Turn the barrel a quarter turn weekly to redistribute the liquid contact with the charred oak Age to taste! Drink from the barrel or pour into a glass container to stop the aging STORING BETWEEN USES Dissolve storing tablets (included) in a glass of water Pour into the barrel and top off with water Every barrel will develop it's own individual flavor profile. This is due to the individuality of each tree, each stave, the amount of charring, climate, season, size of barrel, etc… No two barrels will be alike. Monitor your barrel's performance for future batches, but know that each batch will take a bit longer than the previous. SHIPPING This product is personalized and made in United States. Each order goes through customization and a rigorous quality assurance process which takes around 5-7 business days. This is in addition to the shipping time. Please be mindful of this timeline before placing your order.
---
People Who Liked This, Also Liked
---
Oh snap! No Similar Gift Ideas Found.