Full Bottle Wine Purifier
---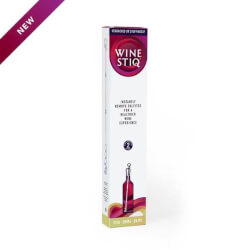 Description:
Each box contains 2 WineStiqs Wine is basically fermented grape juice, but with the fermentation process and subsequent bottling comes a number of byproducts that might not leave you feeling your best. What if there was a way to make your favorite bottle of vino more, well, body friendly? This Full Bottle Wine Purifier tackles problematic sulfites, a preservative that can cause some people to experience unpleasant side effects like headaches, upset stomachs, and skin flushing. Essentially a sulfite-reducer in stick form, this wine purifier is small enough to fit into the top of a standard 750ml bottle of wine. Swirl it around and the patented technology and 100% food-grade ingredients will get to work reducing the amount of sulfites and free radicals in your cabernet, pinot noir, or Sancerre. Some experts believe this will get you even closer to the flavor the original winemaker intended - the grapey goodness that existed before preservatives were added to increase shelf life and the wine's overall longevity. Because this purifier works in a bottle or glass and is easily portable, it makes a wonderfully useful gift for any wine lover who wants to enjoy their go-to tipple minus the discomfort. Wrap it up as a stocking stuffer, birthday surprise, or just hand it over at your next dinner party and watch with delight as your friend or loved one finally gets to sip, swirl, and savor without the specter of sulfite-induced illness hovering overhead. The most effective sulfite removal for wine lovers like you seeking to reduce the intake of harmful preservatives and negative side effects. With a few stirs, you will: Cheers to fewer side effects like worsened morning-after headache, upset stomach, and facial redness Reduce free radicals, a major cause of chronic health problems Enjoy wine the way the winemaker intended, without sulfite preservatives Celebrate, knowing you reduced your consumption of harmful chemicals About WINESTIQ Full Bottle: Each WINESTIQ treats a 750 ml bottle of wine Individually sealed to easily fit in your purse or pocket Works on your favorite red, white, rose and sparkling wines BPA-free and 100% recyclable Patented technology & sustainably made in the USA 100% FDA-permitted food-grade ingredients WHY YOU WANT TO REMOVE SULFITES? Sulfites are formed naturally during the wine fermentation process AND are an added preservative to prolong the shelf-life of wine. Drinking sulfites can lead to headaches, stuffiness, facial redness, itchiness, hives and make morning-after effects more severe. Additionally, sulfites lead to the formation of free radicals, damage cells and increase the risk for the development of chronic and degenerative illness. With a few stirs, you will restore your glass of wine to its most natural and healthy state! WINESTIQ is here to support the wine-lover in you on your journey to healthier living! "BeWell. LiveBetter." HOW IT WORKS? WINESTIQ uses FDA-permitted food-grade ingredients and patented solution that neutralizes nanograms (a millionth of a gram) of sulfites into microdroplets of water, not altering the taste, color or aroma of your wine in the slightest. Have a crack at the science: Sulfites are added to wine as a preservative by either bubbling sulphur dioxide gas in the wine or adding potassium metabisulfite. Both are readily soluble in wine. The sulfur dioxide (SO2) gas equilibrates between Sulfur dioxide (SO2) + water (H2O) and hydrogen ions (H+) + Bisulfite ion (HSO3-). As the pH decreases the fraction of total sulfite present as the bisulfite ion increases so that at pH4 (wine has a pH range of 3-4) the bisulfite ion is the predominant species present in the wine. The bisulfite ion also exists in equilibrium with hydrogen ion (H+) + sulfite ion (SO3 2-). Similarly, the addition of potassium metabisulfite to wine creates an equilibrium of bisulfite and sulfite ions along with free potassium ions (K+). Addition of a scientifically tested, very specific measurement of hydrogen peroxide (H2O2) oxidizes the bisulfite ion (HSO3-) to the bisulfate ion (HSO4-) and water which is then further converted to the sulfate ion (SO4-) plus water. WHY WINESTIQ WINESTIQ is the only sulfite removal device that removes 100% of sulfites from a 6-8 oz glass of wine. WINESTIQ is superior to the competition in all categories:Effectiveness: WINESTIQ removes all sulfites from red, white rose and sparkling, while competitors remove little to no sulfites. Speed: WINESTIQ instantly removes all sulfites from wine in less than 10 seconds. Competitor products take 3+ minutes to use. Portable: At home or on the go, the recyclable WINESTIQ is portable and easy to carry in your purse or pocket. Ease: Just swirl WINESTIQ like a swizzle stick for a healthier wine experience!
---
People Who Liked This, Also Liked
---
Oh snap! No Similar Gift Ideas Found.