Capture The Flag - Now Glows!
---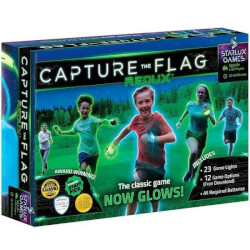 Description:
Remember back in the day when you used to stay out way past dinner time, racing through the neighbor's yards trying to conquer the opposition before bedtime. Capture the flag is a time-honored tradition, and now this classic game is getting a majorly modern upgrade. So many of today's gifts for kids require tons of tiny pieces, make lots of noise, or force participants to sit and stare at a screen for hours on end. Not Capture the Flag Redux. This twist on the classic uses glow-in-the-dark lights to add extra fun to an already awesome game. As simple to set up as it is to use, Capture the Flag Redux has you pick teams, put on an LED bracelet featuring your team color, then set up red territory lights on the chosen playing field. Mark off your team "jail" and turn on your team orb (this game's version of the original flag) and now it's time to do battle while getting some exercise and fresh air. Suitable for players aged 8 to infinity and groups of four to 20, this gift will be the star of any birthday party, holiday celebration, family reunion, or even a bachelor or bachelorette party where guests are eager to get their hands dirty and make some fun-filled memories. It's proof positive that gifts for children can be enjoyed by adults, too! PRODUCT INFO: The new way to play Capture the Flag: with glow-in-the-dark lights! Includes 12 different game modes so that kids (and adults!) are entertained for hours Award-winning Ages 8+ 4-20 players All batteries included. Made in China
---
People Who Liked This, Also Liked
---
Oh snap! No Similar Gift Ideas Found.