Ring Flight Magic Kit
---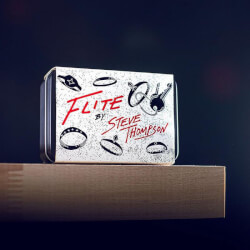 Description:
What if you could make like Houdini and have crowds eating out of the palm of your hand? Not literally, of course, but the ability to do magic is something that can make everyone from your grandkids to your clients at a business dinner sit up and take notice. Whether you want to become a master of illusion yourself or know someone who's ready to upgrade their own abracadabra technique, reach for this Ring Flight Magic Kit.Flite is next-gen magic anchored by a deceptively easy mechanism that ensures even amateur magicians can fool and impress onlookers. Special engineering and an easy-load method keeps the actual workings remarkably simple, but don't confuse simplicity with lack of excitement. This trick may seem straightforward, but that's part of its charm - imagine making a ring disappear and then reappear with a wave of your hand. No threads, no clips, no magnets, just instant, uber-wondrous wizardry.Grab this kit for anyone who's interested in magic or someone who could use an ice breaker and watch as they amaze onlookers with a classic trick made modern. Watch the video to learn more.DETAILED INFO: No threads No clips No magnets 100% safe and secure Loads easily Unlinks easily Resets instantly - perfect for walkaround and restaurant work Can be repeated instantly Can be handled by the spectator Can be used as a visual effect Links multiple rings at a time Performable while surrounded ... and is always ready to go.
---
People Who Liked This, Also Liked
---
Oh snap! No Similar Gift Ideas Found.