Personalized Whiskey Bootleg Kit
---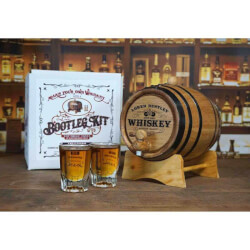 Description:
Buckle up, wanna-be bootleggers! There's a new product on the market that's going to upgrade your homebrew game way above bathtubs and juice bottles. This Personalized Whiskey Bootleg Kit takes inspiration from a long tradition of moonshine and DIY distilling. When Prohibition passed in the early 1900s, Americans had to find other ways to have the perfect happy hour. Some tried to import illegal booze. Others used what they had to make their own liquor, taking inspiration from the spirits they knew and loved. Thankfully, modern ingenuity means you won't have to transform your wash bin into a boiler or pick fruit to ferment. This kit is an all-in-one masterpiece that comes complete with a quality American white oak barrel, paper funnel, barrel cleaning kit, comprehensive instructions, and your choice of essences to influence the final taste of your booze. Oh, and did we mention that the barrel is personalized? Put a friend or family member's name on their newest prized possession and they can display it as they age and/or dispense the liquor inside. Thanks to heavy regulations, its difficult to make bourbon or whisky that's technically perfect, but with this kit, you or someone you care about can make a very close facsimile. In other words, it's history, science, and a little bit of art all rolled into one. Cheers! How does it work?To start, cure your barrel then pour grain alcohol or neutral flavored vodka into the vessel along your Swish Barrel Essence (included). Give it a good shake to incorporate the ingredients then sit tight because in just two weeks time your one-of-a-kind blend will be aged to perfection and ready to serve straight from the tap. Dimensions: 1 Liter 6.5" x 4.5" x 4.5" inches 2 Liter 7.5" x 5" x 5" inches 3 Liter 8.5" x 5.5" x 5.5" inches 5 Liter 9.5" x 6.5" x 6.5" inches 10 Liter 12" x 8" x 8" inches 20 Liter 15" x 10.5" x 10.5" inches How does it work: American White Oak Barrel w/stand, bung and spigot (charred) Essence (1 bottle per liter) KIT INCLUDES: The kit includes everything you need to make your finest spirit and age to perfection in a personalized American oak barrel. Simply select the spirit type, enter your personalized information, and select the size.Alcohol NOT included. American White Oak Barrel w/stand, bung and spigot (charred) Essence (1 bottle per liter) Paper Funnel Barrel Cleaning Kit Complete Instructions NOTE: Bootleg Kit essences are formulated to resemble the taste of distinct types of spirit flavors. The kit does not make the actual spirit but an indistinguishable facsimile.
---
People Who Liked This, Also Liked
---
Oh snap! No Similar Gift Ideas Found.