6-Pack Beer Rub
---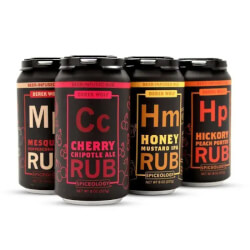 Description:
Made in the USA Peanut butter and jelly. Chips and dip. Ham and cheese. Cake and frosting. Salt and pepper. Fries and ketchup. There are some culinary duos that have an unbreakable bond - you see one, and you're likely to see the other. Barbecue and beer could easily be added to that list. There's something about firing up the grill and tossing on a big slab of well-seasoned meat that seems to call for a cold brew (or two). That iconic imagery is just one reason why this 6-pack Beer Rub is such a wonderful invention - and an even better gift. Rather than filling each can with actual beer, the makers have created beer-infused rubs perfect for amping up the flavor at your next cookout. Options range from the fruity-meets-spicy profile of the intriguing Cherry Chipotle Ale Rub to the rich and robust Imperial Coffee Stout that adds smoky, mocha undertones to everything from brisket and pork tenderloin to a batch of roasted nuts. A recipe for experimentation, this collection of half-a-dozen high-quality loves is useful even if you never cook a rack of ribs again. Try them on fish, potatoes, corn, peppers (poblanos and hatch chilies in particular), sweet potatoes, and zucchini. See how a sprinkle tastes on some Sunday-morning scrambled eggs or what a mesquite-peppercorn mix can mean for your weekly roast chicken. This is a great gift for anyone who loves BBQ, cooking, entertaining, beer, culinary adventures, and delicious combinations of unexpected flavors. Wrap it up as a housewarming gift, a surprise for your host or hostess, or just because. PRODUCT INFO: Grilling chef Derek Wolf teamed up with spice purveyor Spiceology to create these unique beer grill rubs Each rub comes in an 8 ounce can that looks like a beer can! Case of 6, 8 oz Beer Cans: 4.75" H x 2.75" diameter each Real beer cans with resealable lids Grinded in small batches to deliver the freshest most flavorful spices to you INNOVATIVE, NEVER-BEFORE-TASTED FLOVORS: Cherry Chipotle Ale Rub - 8 oz - Use it as a rub or add it to Ale to make a powerful beer marinade perfect for tenderizing proteins and flavoring veggies. Honey Mustard IPA Rub - 8 oz - Use on: Beef, Chicken, Pork, Salmon, Prawns, Duck, Game, Lamb, and Roasted Nuts. Hickory Peach Porter Rub - 8 oz - Use on: Chicken, Pork (especially ribs!), Salmon, Duck, Lamb, Sweet Potatoes, Squash, and Roasted Nuts. Imperial Coffee Stout - 8 oz - Use on: Beef (especially brisket!), Pork, Brownies, and Roasted Nuts. Jalapeno Lime Pilsner Rub - 8 oz - Use on: Beef, Chicken, Pork, Salmon, Prawns, Scallops, White Fish, Corn, eggs, Potatoes, and Roasted Nuts. Mesquite Peppercorn Lager Rub - 8 oz - Use on: Beef (especially brisket!), Chicken, Pork, Salmon, Prawns, Scallops, Corn, Potatoes, and Roasted Nuts.
---
People Who Liked This, Also Liked
---
Oh snap! No Similar Gift Ideas Found.